Body Composition Testing and Analysis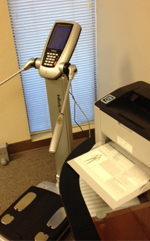 Body composition testing is the process of measuring your body's weight, fat mass, and skeletal muscle mass. Weight alone is not a clear indicator of good health because it does not distinguish between fat and lean body mass. How many times have you heard someone proudly say they weigh the same as they did in High School, yet, you look at them and their waist is markedly larger than what you remember from your High School years. Knowing your body mass index, percentage of body fat, and relationship of Skeletal Muscle Mass vs. Body Fat Mass gives you a much greater indication of your health status.
Our body composition impacts our health, appearance, and impacts our function. Too much body fat increases one's risk of developing diseases such as diabetes, heart disease, and cancer. Carrying too much weight increases stress on the joints, heart, and vital organs.
When attempting to make a change in one's health status or appearance of their body understanding the relationship of one's body composition can be helpful in several ways, first as an indicator of one's current status, second as a motivator, and third with repeat assessments as an indicator as to the success of the program.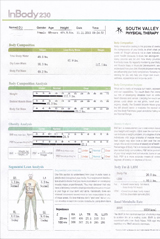 Basically there are two ways we can influence one's body composition. The first, and most important, is nutritional habits; the second is through exercise. Nutritional habits (not just dieting but more of a lifestyle change) has greatest impact on fat mass but when combined with exercise will decrease fat mass and will build skeletal muscle mass. Through regular reassessments of the body composition testing/analysis one is able to see the results on one's program but also makes one accountable to their program of nutrition and exercise.
To get information about
The Body Composition Test and Analysis or to schedule an appointment for an assessment call South Valley Physical Therapy at 408-365-8400.


To arrange an assessment or to speak with one of our Physical Therapists, call us today on 408-365-8400 or email: patientrep@svpt.net

↑ Back to Top