Custom Foot Orthotics
The definition of orthotics comes from the Greek word
ortho,
"to straighten" or "align". An orthosis is an externally applied device used to modify the structural and functional characteristics of the neuromuscular and skeletal systems.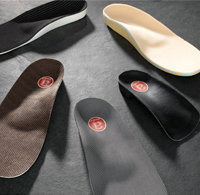 A
custom foot orthotic
is a device fabricated to insert into a shoe to help control the foot and by controlling the foot will influence the ankle, knee, hip, and spine. The foot orthotic is designed to help reduce weight bearing forces that influence the body with a specific purpose.
South Valley Physical Therapy has been providing orthotic services since its establishment in 1985. It began exclusively utilizing the AmFit fabrication system in 2004. This system allows the staff at SVPT to take an accurate contour of the foot utilizing the AmFit digitizer.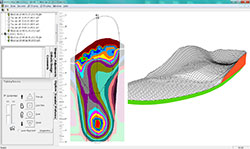 The digitizer creates a computer file of the foot that now can be modified to make all the necessary changes, corrections, or adjustments to configure the best fitting orthotic possible. This file is then electronically sent to the AmFit manufacturing center at which time the file is analyzed with further recommendations made if indicated.This file is then transformed into the actual custom foot orthotics in their manufacturing center which takes approximately 2 days and then shipped back to South Valley Physical Therapy. This process usually takes 7 to 10 days from the initial evaluation until you are placing them into your shoes.
If you are interested in seeing if you are a candidate for custom foot orthotics consider scheduling an evaluation. Contact our office today and schedule an evaluation to see if custom foot orthotics are a viable option for dealing with what is bothering you or if they could be utilized to reduce mechanical stress and possibly prevent future problems.
Basically there are two ways we can influence one's body composition. The first, and most important, is nutritional habits; the second is through exercise. Nutritional habits (not just dieting but more of a lifestyle change) has greatest impact on fat mass but when combined with exercise will decrease fat mass and will build skeletal muscle mass. Through regular reassessments of the body composition testing/analysis one is able to see the results on one's program but also makes one accountable to their program of nutrition and exercise.
To get information about
The Body Composition Test and Analysis or to schedule an appointment for an assessment call South Valley Physical Therapy at 408-365-8400.


To arrange an assessment or to speak with one of our Physical Therapists, call us today on 408-365-8400 or email: patientrep@svpt.net

↑ Back to Top